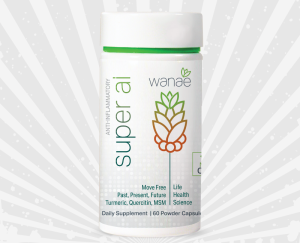 What's in your daily supplement? Wanae's Super ai is super-charged with an incredible mix of vitamins, minerals, antioxidants, CBD oil and other good stuff designed to help you live your best life! Formulated to boost or replace other daily supplements and support bone and joint repair, it's one of our most popular products. Let's take a look at all of the goodness inside each capsule:
In addition to containing 15 MG of pure THC-free CBD oil in each capsule, Super ai contains Tumeric Root Extract. Tumeric is a spice that gives curry its yellow color, but more importantly, researchers have begun exploring and documenting Tumeric's many potential health benefits, including anti-inflammatory properties. Chronic inflammation has been linked to a variety of diseases and chronic health conditions. Turmeric contains curcumin, which has powerful anti-inflammatory and antioxidant properties. We've also added to Super AI compounds such as D-Glucosamine Sulfate, which supplies vitally important glucosamine and sulphur to the body, as well as Quercetin Extract , Shilajit 20% (Fulvic Acid) and MSM (Methylsufonylmethane), all of which are being studied worldwide for their anti-inflammatory properties and other health benefits.
CBD, too, is being studied for its anti-inflammatory properties. Joseph Maroon, M.D., a clinical professor of neurological surgery at the University of Pittsburgh Medical Center, said in a recent review of CBD oil that fighting inflammation is only one of many potential positive effects CBD could have on the human body. Super ai contains 7.5 MG CBD per capsule.
Studies show a high level of satisfaction among those who take CBD oil regularly. In a recent survey of 4,000 people in the United States, for example, more than one quarter said they had tried CBD to promote mental and/or physical health. One out of seven of those people said they use it daily. More importantly, the majority of those in this study who tried CBD reported that it was effective. CBD oil is part of each of Wanae's quality formulations.

At Wanae, we also believe that a powerful daily supplement wouldn't be complete without Alpha-lipoic Acid. ALA is a naturally occurring antioxidant compound that's made in the body. Antioxidants such as ALA may help protect your cells from damage caused by free radicals. As an antioxidant, ALA is responsible for vital activities at the cellular level, such as energy production. Super ai also contains 5-HTP (Hydroxytryptophan), an amino acid that your body uses to produce serotonin. Besides helping regulate mood, serotonin supports cognitive functions, sleep, digestion and other vital functions within the body.
Super ai is chock full of vitamins and minerals as well, including Phosphorus (Phosphate), Magnesium (Magnesium Glycinate), Vitamin C (Ascorbic Acid), Vitamin B3 (Niacinamide), Vitamin B6 (Pryidoxine HCI), Zinc (Zinc Aspartate), Copper (Copper Bisglycinate), Boron (Boron Citrate), Vitamin B12 (Cyanocobalamin), Vitamin D3 (Cholecalciferol), Selenium (Sodium Selenite)
If you're looking for one awesome daily supplement, try Super ai!