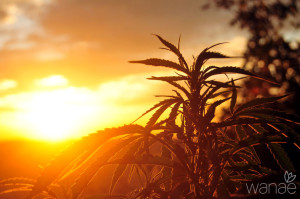 "Going green" has become a popular phrase for companies that want to have a positive impact on the environment with either the products they sell or the way they produce those products.
Hemp is truly a 'green' crop, and at Wanae, we feel good about the impact our business has on the environment. Did you know that farmers who cultivate industrial hemp are providing safe, clean, renewable and sustainable materials that can be used for all kinds of products, including CBD oil? At Wanae, our founders operate the largest and most productive industrial hemp farms in the world. In 2018, we harvested 20,000 acres of hemp for our CBD products.
Why is hemp considered to be so environmentally friendly? Hemp is a bit of a wonder crop. It grows in a variety of different types of climates, soils and conditions. It's naturally resistant to many pests and tends to crowd out weeds, both of which mean that hemp generally requires less in the way of chemicals than other types of crops. It also can be densely planted — hemp doesn't need a lot of space between plants. And it doesn't require the same amount of water that other crops do. Compared with other crops, hemp needs less land, less chemicals, less water and less fertilizer!
At Wanae, we don't import our hemp from China or anywhere else. Our hemp is grown and processed in the United States and Canada. We take pride in knowing exactly where and how our hemp plants are grown and the facilities in which they are processed. At Wanae, we deliver a product that truly is farm to shelf — grown and processed in the United States and Canada, and delivered directly to you.